2020 Boating Accident Report Notables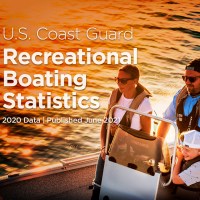 FIRSTLY, What is this report?
The 2020 Recreational Boating Statistics Report or often times referred to the "2020 Boating Accident Report" is a synopsis of all of the boating accidents, injuries and fatalities in any given year.  The 62nd annual report for 2020 is 83 pages.  This report helps to guide us on how to educate the public.  Every boater and instructor should read this report.  The 2020 report, as is always the case, free for distribution in the interest of boating safety.
SECONDLY, What does the 2020 Boating Statistics Report include?
The report includes well over 50 different charts, tables, and graphs.  It includes a wide range of statistics from Accident Causes and Conditions to Registration Data.   The breakdowns are fascinating and set the foundation for boating safety across our country.  We here at Connecticut Boating Certificates LLC review this report as a team and inject what we feel must be recognized and discussed in our Public Classes.  A brief synopsis of 2020:  5,265 accidents, 767 fatalities, and 3,191 injuries.  Additionally, to show the efforts put into the report, stats like boat sales, insurance policies sold, calls for towing assistance are all factored in to the final report.
It is also very important to note the comparisons to previous years.  We can spot trends both good and bad and either encourage or discourage accordingly.  Again, we can not take for granted how important this report actually is.
Connecticut Boating Certificates Notables from the 2020 Boating Accident Report
We have all heard the phrase "you don't want to become a statistic, well the crazy pandemic year of 2020 had plenty of them
Firstly, in 2020 there was an increase of 26% in accidents.  Secondly there was an increase of 25% in fatalities.  Thirdly there was an increase of 24% in injuries.  We believe that the increases are due to the COVID 19 pandemic last year.  More people took to the water last year and the statistics show that.
You must always take a look at the Life Jacket stats.  75% of fatalities were drowning victims.  Subsequently, of that 75%, 86% did NOT have a life jacket on.  Moreover, the large majority of drowning victims were on boats less than 21 feet.  This statistic points towards the inland boaters.
Alcohol was the leading contributing factor in fatal boating accidents.  To clarify, close to 20% of all fatalities.  Aside from alcohol being number one, it was operator inattention, inexperience, improper lookout, excessive speed, and machinery failure rounding out the top 5.  Coming in right outside the top five was Navigation rules violations.  These 6 combined for nearly 30% of all the fatalities.  Sadly, every last one of these is a result of human error.  An error that a human makes that could have been avoided.
Where instruction was known, 77% of deaths occurred on boats where the operator had not received formal boating-safety instruction.  On the other hand, 12% of fatalities were on vessels in which the operators held a nationally approved boating-safety-education certificate.
154 fatalities, about 20 percent of the overall number in 2020 were paddlers.  While we love to see interest in the boating world, education is a must.  Although 2020 was a unique year for paddlers there were far too many fatalities for this segment.  There is a paddle specific blog for you here as well.
In Conclusion
There are approximately 11.8 million boaters with registrations across our nation.  The U.S. Coast Guard is asking all boat owners and operators to help reduce fatalities, injuries, and property damage.  Do this by taking personal responsibility for their own safety and the safety of their passengers.  An essential step to include is wearing life jackets.  Never boat under the influence.  You can be arrested for BUI and the stats speak for themselves.  Meanwhile, get educated.  Successfully completing a boating safety course is paramount.
Get a Vessel Safety Check annually from local U.S. Coast Guard Auxiliary.  Other outfits like the United States Power Squadrons, or your state boating agency's Vessel Examiners offer checks as well.  The U.S. Coast Guard reminds all boaters to "Boat Responsibly!"
You are responsible for your own vessel.  Above all, there is no room for egos when passengers lives are in your hand.
Check out an awesome site by the USCG:  Boating Safety Tips by USCG | Boating Safety (boatingsafetymag.com)  Please view the report:  2020 Recreational Boating Statistics (uscgboating.org)