Connecticut Boaters Guide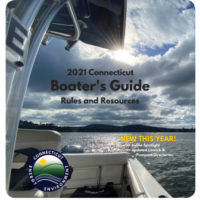 The Connecticut Boaters Guide is a free publication.  Its primary function is to enlighten boaters on what's new in Connecticut.  The guide is published on a yearly basis.
This joint venture between the Connecticut DEEP and Turley Custom Media opens many new doors.  Turley Custom Media supports CT DEEP with the design, layout and editing of the Connecticut Boater's Guide.  All the while managing the marketing and advertising sales to companies and organizations relevant to you, the reader.  Therefore, making the guide a one-of-a-kind publication in Connecticut.
How is this Free
Advertising revenue not only generates savings, but it also lowers production costs.  This allows the CT DEEP to focus funding on what really matters – keeping Connecticut's waterways safe, clean and fun for all boaters!  These dollars also keep the publication FREE!  This is a culmination of all things dedicated to a greater cause.  Advertisers include educational companies, marinas, products, and services to name a few.
What is in the Guide?
You will also find many extremely helpful topics in the Boaters Guide.  Whether you are a new or experienced boater, the Connecticut Boater's Guide contains a breakdown of most of the simple Navigational Rules of the Road.  This guide contains important information about laws and regulations.  It ensures that everyone has a safe and enjoyable time on Connecticut's beautiful coastal and inland waterways. The Connecticut Boater's Guide contains a map and information on all 117 state boat launches.  This helps you find a launch closer to home, so you don't have to wait in large launching lines.
How can you Get involved
The guide also highlights how boaters can play a role in important environmental issues.  For example, preventing the spread of aquatic invasive species.  Further, be aware of protecting water quality through the use of pump out facilities.  Did you know that kids can promote clean and safe boating to their peers through our fun and successful Student Ambassador Program?  Find out more about these programs inside the guide.
We welcome your feedback or advertising interests. Please contact us at 800-824-6548 or email [email protected].
In Conclusion
We here at Connecticut Boating Certificates LLC promote the use of the guide during our Public Classes
For a further breakdown of the Guide visit the DEEP's web page.