Is the Connecticut Boaters License reciprocal in other states?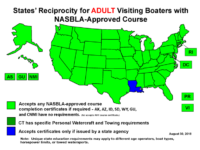 CONNECTICUTS RECIPROCITY
Connecticut is required by law to teach the Boaters License threefold.  This means we teach the NASBLA Core, Plus Powerboats, Plus Personal Watercrafts, and Plus Water Ski Towing.  As a result, the Connecticut Boaters License reciprocal in other states.  In fact our license is reciprocal in all 50 states.  Also included is American Samoa, Puerto Rico, Guam, Northern Mariana Islands and Virgin Islands.  However, we do have some limitations for visiting boaters.  Read on.
CAN OTHERS BOAT IN CONNECTICUT
Yes they can but you still need a NASBLA Core Plus Powerboating Certificate to do so.  As is in the same vein with every state in the U.S.  Now to clarify Connecticut says that if you want to tow or operate a PWC you must have those "Plus" endorsements on your license.   In other words, you must have the same credentials that a Connecticut resident has.
CHECK WITH YOUR STATE TO BE SURE
We must understand that reciprocity can and will change.  In fact if you are reading this know that we updated this article in 2021.  You can easily find out by visiting NASBLA's Reciprocity and Educational Requirements Page as they are the authority on the subject.
If you move to another state always check on the state specific requirement for its residents as more training may be necessary.
Also, if you move to Connecticut from New York, New Hampshire, Rhode Island or Massachusettes you can have your licence "switched out".  You must do this within 90 days of becoming a resident.
Those who dock a boat for 60 days or more in Connecticut. At that point you'll have to register the boat in Connecticut which means you'll have to have the Connecticut PWC (the modern day Boaters License) number to register.  Who needs a Connecticut Boaters License?
Above all, be smart, be safe, and remember there are no egos when passengers lives are in your hands.
Please visit our Public Course Schedule to view all of the classes we have available for you.  Zoom Classes are available now.  There has never been an easier way to get your Boating Certificate
Here is a great article from U.S. Coast Guard Auxilliary Sierra Division 11 website regarding the preferred channel buoy:  Regulatory Buoys (sierracgaux.org)