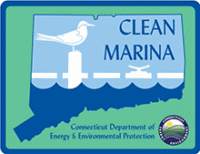 It's everyone's job to keep our waterways clean.  You can join the Clean Marina Program and be proud to do your part!
The following article is based on a letter from the Connecticut Marine Trades Association, Inc.  They are leading the way in Connecticut.
The Mission
To begin with, Long Island Sound is a precious environmental, economic and recreational resource.  It lies in the heart of the most densely populated region of the United States.  Preserving and protecting Long Island Sound for ourselves and future generations is a common goal.  We share this goal with our partners at the Connecticut Department of Energy & Environmental Protection.  Moreover, that is why we collaborated with CT DEEP in 2002 in the development of the Connecticut Clean Marina Program.  This encourages environmental excellence at marinas and boatyards located throughout the State.  It reduces nonpoint source pollution and promotes clean water and air.
The Commitment
CMTA has assumed the administrative functions the Clean Marina Program from CT-DEEP.  Consequently, state budget cuts have threatened the future of the program.  We have updated the Clean Marina Guidebook to reflect changes in permit requirements and their regulations.  In addition, all program materials are available on our website ctmarinetrades.org and hard copies upon request.
Moreover, the basic components of the Clean Marina Program remain the same.  However the CMTA is now the point of contact for the program. So, we ask that you continue to use the Clean Marina Guidebook as a resource for achieving a level of regulatory compliance.  As a result, you'll be above the norm to demonstrate your commitment to improving the health of Long Island Sound.  Secondly you'll improve the health of a larger global ecosystem.
Finally
Thank you for your dedication and we look forward to working with you.  Most importantly, our goal continues to be making all of our state's marinas certified Clean Marinas.
Sincerely,
Kathleen Burns, Executive Director
CT Marine Trade Association (CMTA)
What you can do
Please visit our site:  CMTA Clean Marina – CT Marine Trades Asociation and help to keep our waterways clean.
Connecticut Boating Certificates LLC is proud to have made this a topic in our classes.  Please visit our Public Course Page for all the classes we have available.  It has never been easier to get your Safe Boating Certificate.