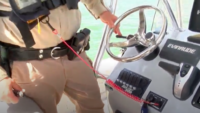 THE NEW LAW ON ENGINE CUT OF SWITCHES
The United States Coast Guard announced on April 1, 2021 that the proper use of the Engine Cut Off Switch (ECOS) and link will be enforced.  The link is usually a coiled bungee that connects the boat to the operator while the vessel is underway.  It must be in place while the vessel is on plane or any speed greater than slow-no-wake.  There are other versions of the ECOS link including electronic wireless devices.  The new law applies on all "Navigable Waters of the US".  Currently, only the U.S. Coast Guard can issue a ticket for this new law.
WHICH BOATS NEED TO HAVE THIS
The law requires any motorized boat with a 3 horsepower and greater motor and boats less than 26 feet long.  This includes electric motors that produce more than 115 pounds of static thrust.   In addition, any boat built after January of 2020.  In short, if your boat is equipped with one you need to be linked.   PWC's will continue to enforce this requirement.
DO I REALLY NEED AN ENGINE CUT OFF SWITCH AND LANYARD
First and foremost, once the lanyard and switch become disconnected the boat turns off.  Circling and runaway boats pose a serious threat to its passengers and other boaters in the area.  Boats can make sudden and forceful turns that create enough torque to eject an operator from the helm.  Actually, a sudden and forceful turn can throw the operator completely out of the boat.   If thrown out of the boat, there is always the possibility of a propeller strike.  Imagine being throw off of a boat.  Discombobulated and shocked you surface and the boat is circling.  Now you have to avoid a propeller strike.  In short, wearing the ECOS Link immediately stops the engine eliminating circling, and runaways.  Then the operator can reset and and regain control of the boat.
ARE THER EXEMPTIONS
Exemptions are:
One, if the helm is in an enclosed cabin
Two, the vessel is used by Law Enforcement and or are government owned vessels
Three, the vessel was built prior to January of 2020 and never had and ECOS installed
IN CONCLUSION
Additionally Connecticut Boating Certificates LLC has always taught students that the ECOS and Link is a good idea.  In fact, we encourage everyone to install one if your boat does not have it.  You can view more FAQ's from the Coast Guard .
Most importantly, there are no egos when passengers' lives are in your hands. If it looks unsafe, it probably is. Be smart, be safe, and happy boating!
Please visit our Public Course Schedule to view all of the classes we have available for you.  Zoom Classes are available now.  There has never been an easier way to get your Boating Certificate
Here is a great article from U.S. Coast Guard regarding the new law regarding Engine Cut Off Switches.  ECOS New Law