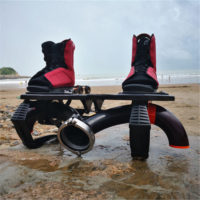 WHAT IS FLY BOARDING
Fly Boarding is becoming a very popular sport.  It is done by connecting a fly board, jetted articulating vessel, or JAV to a PWC or Personal Watercraft.  They are connected with a heavy duty hose.  The hose is bolted on to the intake of the JAV and the steerable nozzle of the PWC.   So when the operator of the PWC engages the throttle the PWC stays stationary and the Fly Board takes off.  The Fly Boarder can then do tricks, like twists, turns, 360's, flips, and even dive into the water below.
CAN ANYONE GO FLY BOARDING?
Aside from the PWC operator, the State of Connecticut states that one who can control the thrust upon or direction of the JAV is considered an OPERATOR as well.  As a result of this statement the fly boarder must have his/her operators license, and must also be 16 years old.  To clarify, both the PWC and the JAV together are considered one vessel.   It makes sense that together in concert both operators must be properly certified.
ARE THERE ANY OTHER RULES OR LAWS THAT APPLY TO JETTED ARTICULATED VESSELS?
Actually almost all rules still apply when fly boarding.  Firstly the PWC must maintain 200 feet from shore and 100 feet from any other vessel.  This includes docks, piers, swim floats, slides, and any other floating objects.  Secondly, both operators must wear a Type 3 High Impact vest while underway.   Additionally, there is no right of way given to those who are flyboarding.  If another vessel approaches, throttle down and wait until the area is safe to resume fly boarding.
IN CONCLUSION
As always with being on the water, better safe than sorry.  Both participants are relying on one another.  The PWC operator has a pretty serious responsibility during this operation.   There is no room for egos on the water.  Be safe, be smart, and enjoy your day!
We here at Connecticut Boating Certificates LLC are proud to teach this topic in our Licensing class.  Please visit our Public Course Schedule for more information.
Here is the Connecticut's General Assembly's Public Act 16-187 regarding the use of  Jetted Articulated Vessels: AN ACT REGULATING THE USE OF JETTED ARTICULATED VESSELS AND CERTAIN WATER SKIING DEVICES.