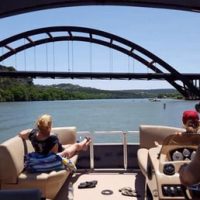 Is Boating fun?  Well of course it is!
You can check out the full article by Discover Boating by clicking  10 Fun Things to Do on a Boat | Discover Boating
Boating is hands down one of the most popular outdoor recreational activities out there. When you're on a boat, you're surrounded by water and fresh air.  Which is not only good for your mind, but also good for your body!  So, when a sunny day comes along and you're looking for fun things you can do outdoors with your family, boating is the perfect stress-reliever.  It's easy to find boat rentals near you if you don't own a boat of your own.  Boating is an on-demand escape from everyday life!  Indeed, a super fun thing to do with a small group of close friends and family.
You'll be staying safe with your family and doing so without breaking the bank.
Here are 10 fun things you can do on a boat.
1. Fishing
Regardless of whether you're freshwater or saltwater fishing, there's no need to go far offshore to satisfy the urge to catch fish. In fact, having a boat near-shore means you can fish not only in the traditional way, but also with fly-fishing gear.
2. Wakeboarding
Most boats are set up for wakeboarding. Assuming that you already have life jackets on board, all that you need to add to the equation is the actual wakeboard and a tow rope.  Towning sports are exhilarating for the rider!
3. Water Skiing
Old-school watersports lovers may prefer water skis to wakeboards.  Back in the 1960s and '70s, everyone was trained to face forward, hold onto the tow rope and let the boat pull you up out of the water.  Water skis are also less expensive than wakeboards. They're an investment in what will add up to hours upon hours of fun on the water.
4. Riding Inflatables
Today's inflatables come in all kinds of shapes and sizes.  There are two-person bananas to four person "lounge chairs" or torpedoes.  Inflatables can be shaped as everything from swans to fighter jets.  There are plenty of resources out there.  Resources will help you choose best towable for your boat.
5. Camping
Sometimes, you just need a change of scenery.  Boating offers that option in spades.  Many people camp from the boat.  Simply waking up the next morning in a new setting can be a psychological lift unlike any other.  Get back in touch with nature.
6. Take-Out Dockside Dinner with a View
One of the greatest pleasures of boating is pulling up to a waterfront dock-and-dine restaurant.  How nice is it to phone in an order of fresh catch of the day or peel-and-eat shrimp.  Then eating on the boat with a 360-degree view of the sunset over the water.  Dinner with a waterfront view from the boat is even more of a treat now.  Crack open a favorite beverage and enjoy the fresh night air.
7. Snorkeling
Few sights are as delightful as the ones just off the swim platform of a boat.  Simply wearing a snorkeling mask and fins lets you enter a whole world of natural scenery that doesn't exist anywhere else.  Coral comes in shapes ranging from staghorn to mushroom.  The colors that sometimes seem too vivid to be real. The fish swimming around the coral are also breathtaking.  With a basic underwater camera to capture your favorite moments, the fun of a few hours spent snorkeling can bring smiles in keepsake photo albums for years to come.
8. Scuba Diving
If you're looking to escape from the daily barrage, try scuba.  Place yourself in the middle of all kinds of underwater life.  Swim through schools of fish and view a sea turtle go by.  Check out vertical coral walls.  You can look in all the nooks and crannies for everything from sea stars to moray eels.  The closer you look, the more you'll see.  Scuba diving will let you regulate your breathing and relax your heart rate.
9. Stand-Up Paddleboarding (SUP)
A paddleboard can be dropped into the water in a matter of seconds.  You can step onto it from the boat's swim platform.  Paddleboarding is one of the quietest activities out on the water.  It's perfect for anyone who wants to watch the birds in the trees or the fish just beneath the surface. You get a great workout as it is great for the arms, core and legs alike.  Paddleboarding is a whole-body experience.
10. Kayaking
Kayaks are small enough to store on a boat.  They can be taken out for playtime after the mothership is on a mooring ball in a scenic harbor.  Better models also have foot pedals to help with steering for beginners.  Always wear a jacket and expect to get wet!  In fact, kayaking is one of the fasted growing hobbies in the United States.
Many of these topics are discussed in Connecticut's Safe Boating Certificate classes.