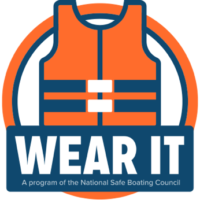 HOW DO LIFE JACKETS SAVE LIVES?
Life Jackets provide buoyancy.  That is to say, the ability to float in water.  To begin with, what if you unexpectedly find yourself in the water?   What if you jump in the water to save some one else?  Moreover, what if you are no longer able to keep yourself afloat due to fatigue, injury, or cold?  In addition, what if you are a weak swimmer?  Ask yourself these questions.  Do any apply?  Of course they do.  In short everyone knows this yet we still see the majority of all recreational boaters not wearing them.  Did you know that 90 percent of all fatalities could have been avoided by simply wearing a life jacket?  Be sure to inspect all life jackets during your Pre-Trip Inspection.
WHEN CHOOSING A LIFE JACKET YOU SHOULD
Above all we must match the appropriate size for the intended user.  Likewise ask yourself, what will the intended activity be?  For instance, you cannot wear inflatable life jackets when water skiing or riding an inflatable.  Make sure your jackets are in good serviceable condition.  All life jackets must be Coast Guard approved.  Therefore those words must appear on the label.   The three basic groups of life jackets are as follows.  First we have Off-Shore jackets.  Second we have Near-Shore jackets.  Third we have the category of Sporting jackets.   As a result of this, we have many choices.  That is why it is so important to pick the right jacket for intended use.

SIZE AND FIT
Check the label for user weight and chest size and match the two.  The jacket must meet carriage requirements and will have this information right on the label.  Actually, did you know that different body types float differently?   You should test all life jackets by trying them on.  Get in the water to ensure your airway is clear.  This should be a controlled environment and one should be able to stand up if needed.  A good fit is secure, comfortable, and adjustable.  Have the individual raise their arms.  The jacket should not "ride" up the face.  The jacket should stay down on the shoulders.  You can also place your fingers between the wearer and the jacket and pull up.   You are looking for the same result.  That is to say the jacket should stay down on the shoulders.
ACCISSIBILITY
Though not always required by law, a lifejacket should be worn at all times when the vessel is underway.  Underway means anything other than docked, moored, or anchored.  A wearable lifejacket can save your life, but only when you wear it.  Wearable lifejackets must be readily accessible.  You must be able to put your lifejacket on in a reasonable amount of time in an emergency (vessel sinking, on fire, etc.).  Lifejackets should not be stowed in plastic bags, in locked or closed compartments or have other gear stowed on top of them.  Open the hatch, grab a jacket.  Throwable devices must be immediately available for use and within arms reach.
INFLATABLE LIFE JACKETS
Inflatable life jackets may be more comfortable to wear but may need some servicing.  Pay careful attention to the condition of the inflatable jacket.  Inflatable life jackets must have a full cylinder and all status indicators on the inflator must be green.  If not, the device is NOT serviceable, and does NOT satisfy the requirement to carry lifejackets.  Inflatable lifejackets are not appropriate for weak or non-swimmers.  Once deployed, it is recommended that a qualified technician service the life jacket.
CHILD LIFE JACKET REQUIREMENTS
Federal Law requires that when a vessel is underway, children 12 years of age and under must wear their lifejacket.  The exceptions being, when below deck or within an enclosed cabin.  One size fits all for adults are not appropriate for children.  Underway means anything other than docked, moored, or anchored.
WRAP-UP
Connecticut Boating Certificates LLC is proud to include Life Jackets as a subject in our licensing course.  Click to view our Public Course Schedule.   Always be safe, always be smart, and there are no egos when passengers lives are in your hands.
In conclusion, here is an awesome page by the United States Coast Guard:  Life Jacket Wear / Wearing your Life Jacket (uscgboating.org)