Powerboat Requirements and Length Classifications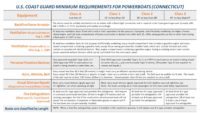 WHY IS THE LENGTH OF THE BOAT RELEVANT?
It is important for the authorities to distinguish powerboat requirements and length classifications.  First authorities must know what restrictions boats have.  Depending upon the year a craft was built different length boats came with different options.  For the operator, the safety equipment you carry will vary with length.  Second, for the authorities, there has to be a cap on who can operate what.  For the operators, you must have the proper training for the proper vessel.  Lastly, key elements like ventilation must be present and retrofitted  on Class A, Class 1, 2, & 3 boats regardless of its age.   This is why it is important to have classifications.
WHAT CHANGES WITH POWERBOAT REQUIREMENTS AND LENGTH CLASSIFICATIONS WITH REGARDS TO SAFETY EQUIPMENT?
There are three distinct changes with regards to safety equipment.  To start with, Personal Flotation Devices.  Class A vessels only need life jackets for those aboard and that is it.  Once we get into Class 1 and above, a throwable device must also be present on the vessel.  Next is visual distress equipment.  On a Class A vessel, visual distress equipment is only required when operating at night.  Class 1, all vessels operating on Federally Controlled waters, carrying over 6 passengers must carry both day and night time visual distress equipment.
Finally, you carry more fire extinguishing power as the vessel gets bigger.  Class A and Class 1 must carry a B-1 extinguisher made specifically for flammable liquids.   As the boat gets bigger, Class 2 needs two B-1's or a B-2 extinguisher.  Finally, Class 3 needs either three B-1's, or a B-1 and a B-2 combination.  Remember, the majority of boat fires are composed of fuel and/or oil.
WHAT ARE THE ACTUAL LENGTH CLASSES
Less than 16 feet is a Class A vessel
16 feet to less than 26 feet is a Class 1 Vessel
26 feet to less than 40 feet is a Class 2 Vessel
40 feet to less than 65 feet is a Class 3 Vessel
SIDENOTES
Try not to think that meeting the minimum requirements is all you need to do.  Think, where will you be, what will you be doing, and match your gear to your answers.
As always, there is no room for egos when passengers' lives are in your hands.
Please visit our Public Course Schedule to view all of the classes we have available for you.  Zoom Classes are available now.  There has never been an easier way to get your Boating Certificate
Here is a helpful page from National Oceanic and Atmospheric Administration's Office of Marine & Aviation Operations regarding Classifications:  Length of Vessel By Class | Office of Marine and Aviation Operations (noaa.gov)