You should be using the PC version of the site for purchasing & downloading your license.
If you are using the mobile version you'll need to access the Desktop View (appears as a link at the bottom of the page) and then follow the directions below.
DIRECTIONS FOR PURCHASING & DOWNLOADING YOUR LICENSE
Go to this link: ct.aspirafocus.com/internetsales
Click "START" in red letters
Use the Pull Downs to fill in your Date of Birth & Conservation ID number and then Click "NEXT"
Your Account will come up and Click "NEXT" again
Click "BOATING" on the bottom right of the upper to mid-page menu
First Click "ADD" Safe Waterskiing Endorsement as long as you are 16 and over as this will not appear if you are 10-15 years old.
Then Click "ADD" Certificate of Personal Watercraft Operation
Click "NEXT"
Enter Credit Card information and click "SUBMIT PAYMENT"
Click "PRINT LICENSE" which will download a PDF. Open it, Print it, and Save it to your computer. YOUR LICENSE WILL HAVE A NASBLA insignia and a PWC number on it (your new license number is that PWC number).
Go back to the Print License page and Click "EXIT"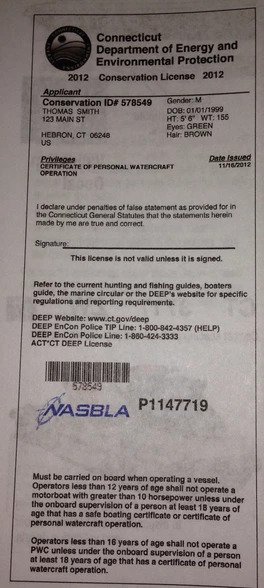 If you do not have your license, click to view our Public Schedule Course page.  Getting your boating license is easier than it ever has before.  We have multiple online options that bring our boaters course right into your own living room.  Learn from the comforts of your own home.  Hundreds of families are taking advantage…you should be next.  Our instructors are bright, articulate, and friendly.  Their passion for boating clear shows and we have the testimonials to prove it.  Take a few moments to read what people are saying about our instructors.  You can view our testimonials section by clicking here.  As always, good luck and be safe out there!