Safe Water Skiing Endorsement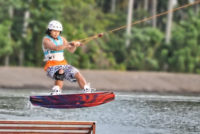 WHAT IS THE SAFE WATER SKIING ENDORSEMENT
The Safe Water Skiing Endorsement has been a part of Connecticut boating education since 2015.  In short, it is a "Plus" endorsement on your Safe Boating certificate.  It allows an operator to tow either a water skier or someone on an inflatable.   Incidentally, the old law allowed operators of only twelve years old to tow skiers and tubers.  The primary directive of the endorsement was to raise the age from twelve to sixteen years old.  So now, an operator must be sixteen years old to tow individuals on skis or an inflatable.
HOW DID IT COME ABOUT
In 2014 Emily Fedorko was fatally injured during a tubing incident.  This happened in the Old Greenwich area of Long Island Sound.  On the heels of this tragic accident the Fedorkos and a committee appealed the law.  The effort created enough ground swell to have the new law passed near instantaneously.   The new law became known as Emily's Law.  Because of the law, Emily Fedorko will always be remembered in our hearts and souls.
Connecticut creates the endorsement.  As a leader in boating education, the state presented the new material as its own entity.  This endorsement appears on your certificate.  That is to say, for those who have taken the class by a qualified instructor.   If you are going to tow someone in Connecticut, you have to have this endorsement on your license.  Connecticut includes this endorsement with the Safe Boating Certificate class.  Consequently, not every state does so.
WHAT DO YOU LEARN BY TAKING THE WATER SKIING ENDORSEMENT
Included are topics like, distances, visibility, lateral awareness, and the use of the proper equipment to name a few.  You'll learn about responsibilities of the operator, observer, and skier.  Additionally you will learn how to avoid dangers like rope entanglements.  By the way, do you know that distances change when you are towing someone?  Do you know how to tell your tow line is worn?   The informative endorsement hosts a plethora of helpful material.  Everyone should earn this endorsement.
IN CONCLUSION
Water Skiing and towing inflatables is exhilarating and tons of fun.  Learn how to do it safely!  Most importantly, there are no egos when passengers' lives are in your hands.  As always, be smart, be safe, and happy boating!
Please visit our Public Course Schedule to view all of the classes we have available for you.  Zoom Classes are available now.  There has never been an easier way to get your Boating Certificate
Here is a great page from Connecticut's Department of Environmental and Energy Protections website.  Safe Waterskiing Endorsement (ct.gov)