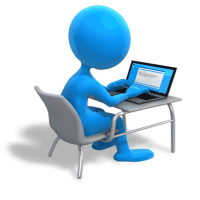 Are Virtual Boating Classes worth it?
Lots of people asking if virtual boating classes are worth it and yes, they are.  The catch is that you have to choose the right instructor for the job.   Most people believe that virtual teaching is easier.  Guess what, it's not.  Firsthand coming from a teacher's standpoint, nothing could be further from the truth.  A teacher has to give more energy, more enthusiasm, and more effort in a virtual environment.   The inherent problem with virtual learning lies with instructors who are not willing to up the ante.
Are Virtual Boating Classes just because of COVID?
Virtual learning is nothing new.  There are colleges that have offered virtual classes for decades now.  At first, they were considered cult like.  Consequently, frowned upon.  Pre pandemic virtual learning had picked up a ton of steam.  As a result of the pandemic virtual learning went off the chain.  Virtual learning changed the landscape of brick-and-mortar offices.  For example, some business found out they can streamline, and hence some jobs were lost.  On the other hand, some businesses were able to expand using the terrain of virtual learning to their advantage, hence gaining jobs.
What has changed in the Virtual Learning world in general?
To begin with, the technology has become so readily available.  Both instructors and the public can partake with little or zero investment.  Secondly, educational providers, such as us, present finely honed programs making it easy, if not easier, to learn from home.  In addition, boaters and their families are chomping at the bit to get their licenses from home.  When we combine these elements, the only outcome is success!  Connecticut taught their highest number of boaters in state history over 2020 and 2021.  This is why you too should take advantage of this opportunity.
How do I choose the right Provider?
Look for testimonials on educator's websites.  If there are only one or two, beware!  Call them, ask to speak to one of their instructors to see how they handle themselves on the phone.  What are their policies for returns and rescheduling?  Do all that you can to get a positive and intriguing learning experience.
In Conclusion
Connecticut Boating Certificates LLC offers a full schedule of Virtual Classes.  Visit our Public Course Schedule to see what's available!
Here is a research article from years back with regards to Virtual Learning and Educational Credits Earned written by John Moran for the State of Connecticut.
As always be safe and be smart out there.  No room for egos when passenger's lives are in your hands!