Age Restrictions for Boating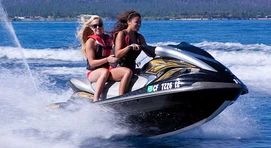 AGE RESTRICTIONS
So everyone always asks what are the age restrictions for a boating, using a Personal Watercraft, and to Tow a skier.  There are a bunch of them!   Age restrictions are obviousy needed when it comes to operating any vessel.  The laws have been catered to the amount of responsibility one has.  The laws alos cater to the actual operation of the vessel itself.  Connecticut has done a great job and makes these laws quite clear.  Let's take it vessel by vessel.
BOAT
Age restrictions for boating is as follows.  10 and 11 year olds can operate a boat solo with their certificate with a motor less than 10 horsepower.  If a boat has a motor of greater than 10 horsepower the following applies.  Certified individuals that are 10 or 11 years old may operate the boat under the supervision of someone 18 or older.  The adult has to have had their certificate for at least two years.
Individuals 12 years and older can solo on a boat.  As we say in class though, "Parents have the final say".  It is of our opinion that youngsters must prove to their parents that they can do this.  We show them how.
You must be 12 years old to be an observer on a boat towing a skier or inflatable rider.  This is an underappreciated responsibility.  Observers must be focused and well aware of what's going on at all times.
Finally, you can supervise and teach a youngster up to 15 years old how to operate a boat and no certificate is necessary.  Now, once the individual reaches 16 years old, the party is over and they must have a certificate to operate the boat.
You must be 16 years old to operate a boat towing a skier or inflatable rider.  However there are no age limits to ski or ride an inflatable but proceed with caution, be safe and be smart!
PERSONAL WATERCRAFT
You must be 16 years old to solo on a PWC.  This includes jet skis and wave-runners.  We have a great blog on the Definitions of Personal Watercrafts as well.
Remember, you can get this license at 10 years old so anyone from 10 to 15 may operate the PWC but must have someone on board with them 18 or older who has their Certificate of PWC Operation.
There is no age limit for Passengers on a PWC however they must be able to plant their feet on the runners (deck), hold on, and ride behind the operator. Again proceed with caution!
Above all, be smart, be safe, and remember there are no egos when passengers' lives are in your hands.
Please visit our Public Course Schedule to view all of the classes we have available for you.  Zoom classes are now available.  There has never been an easier way to get your Boating Certificate
Here is a great article by the United States Coast Guard regarding PWC safety:  Personal Watercraft Safety | Boating Safety (boatingsafetymag.com)